At present, the impact of the epidemic is still very serious. Most countries are adjusting the pace of work, study and life to meet the challenge of COVID-19 from all aspects. Fortunately, under the leadership of the leaders of their respective countries, the epidemic has been effectively and clearly controlled. I believe that we can go to the streets happily and will soon come.
Although the epidemic is still rampant, the way we play can be diversified. With a few good friends, we can have an online game interaction. The current Internet has given us convenient communication. Perhaps there is a lack of enthusiasm for live games, but this is also a warm-up for our live games in the future, and it will not be too unfamiliar in the later stage.
During this period, we also made some adjustments to the past products, and also added some new ideas. Let me introduce them to you next.
1.Upgraded D&D Condition Rings 96 Status Effect Markers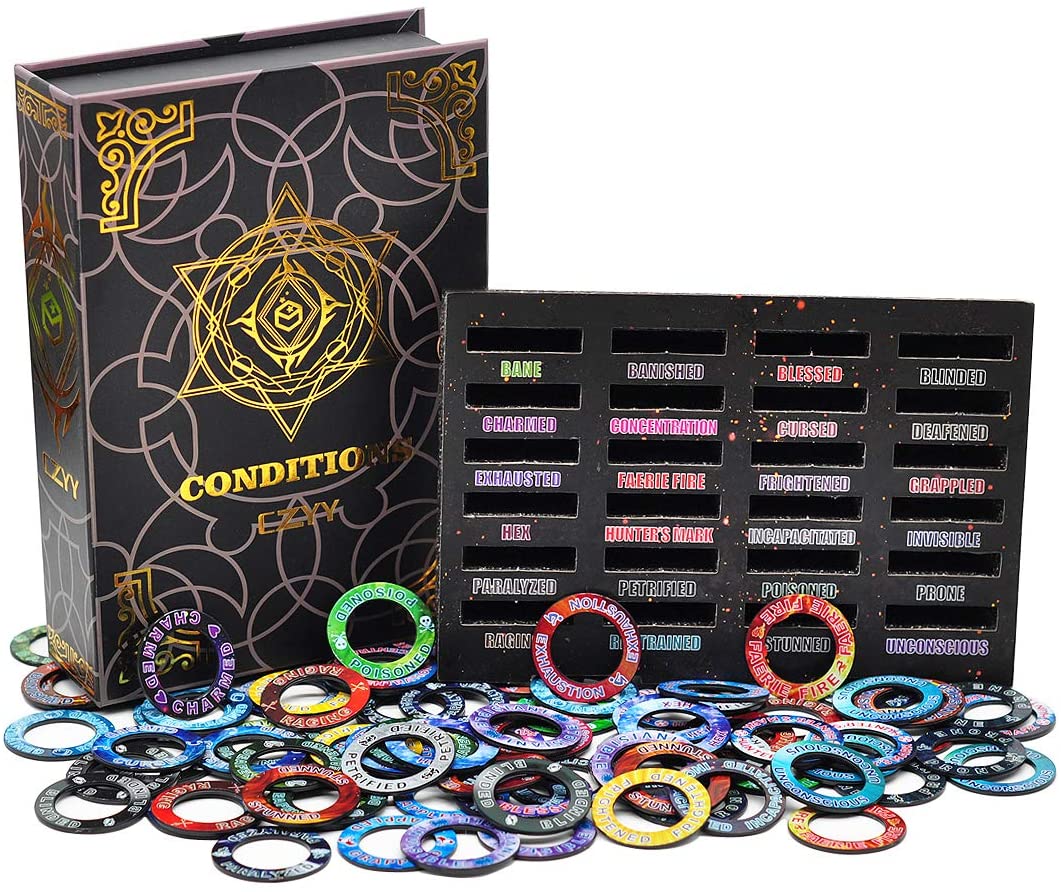 This product is upgraded from the previous Acrylic condition rings 72pcs. This upgrade is mainly to adjust the material and craftsmanship to make it more durable and show the behavior state more coolly.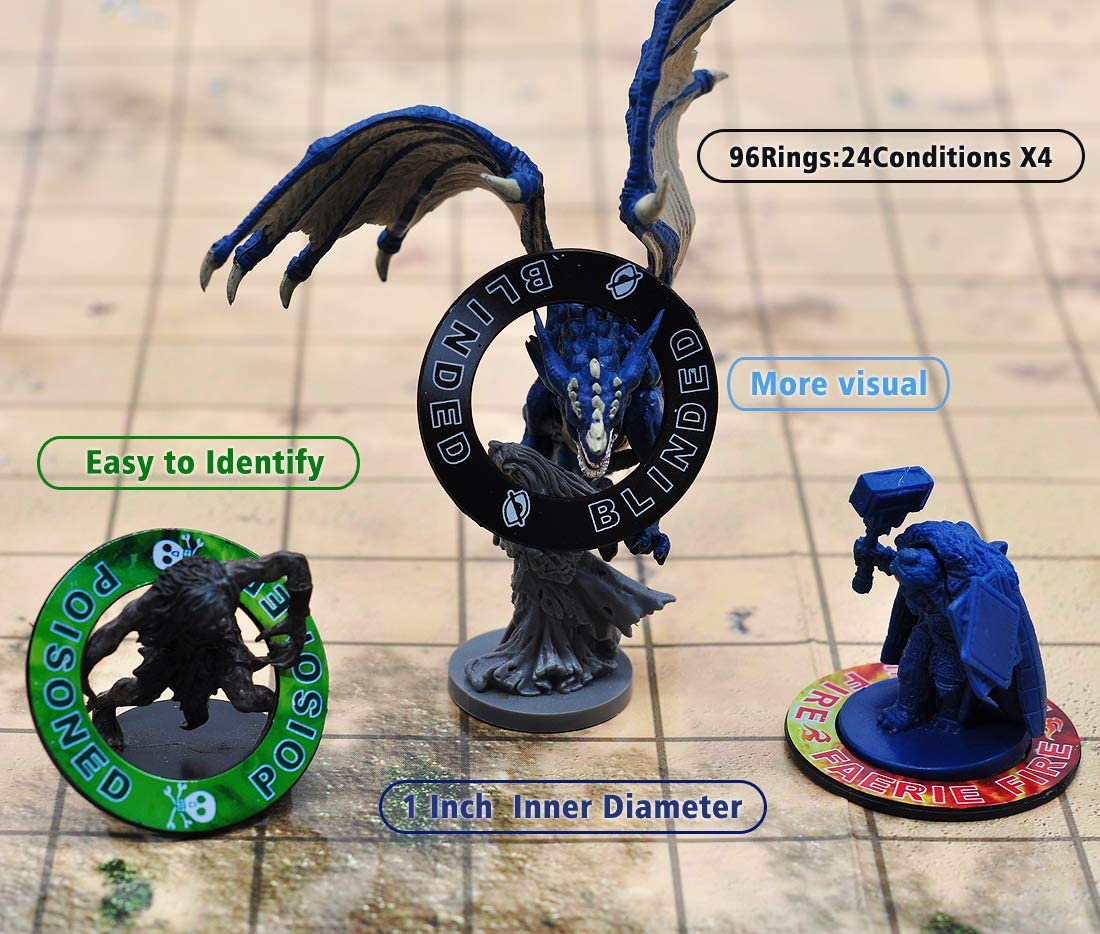 They are made of ABS, which are more rigid and durable than acrylic or chipboard. And unlike other dnd condition rings, each of our conditions features a unique color printing and icons for identity at a glance.
96 dnd status trackers in 24 conditions or spells that you can hang off your NPC and PC minis to track what Dungeons and Dragons conditions are affecting them. These rings make tracking status effects during combat so much easier, definitely better than using colored rubber bands or colored bottle cap.
The display of rich colors and status signs allows you to use condition rings more intuitively.
2.D&D Condition Rings 106 PCS Wooden Status Effect Markers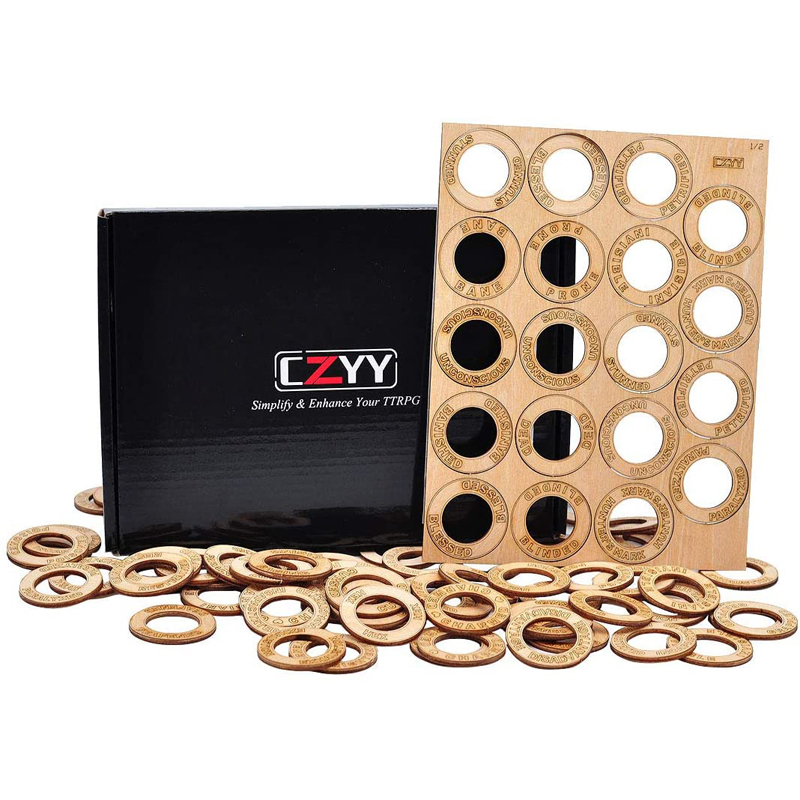 Compared with acrylic status rings and ABS status rings, the number of wooden models is more. But because it is the first test, the appearance design is relatively simple. There is no pattern design of the ABS version, and perhaps the other two are more durable than it, so its price is relatively low. Of course, we will adjust it this later.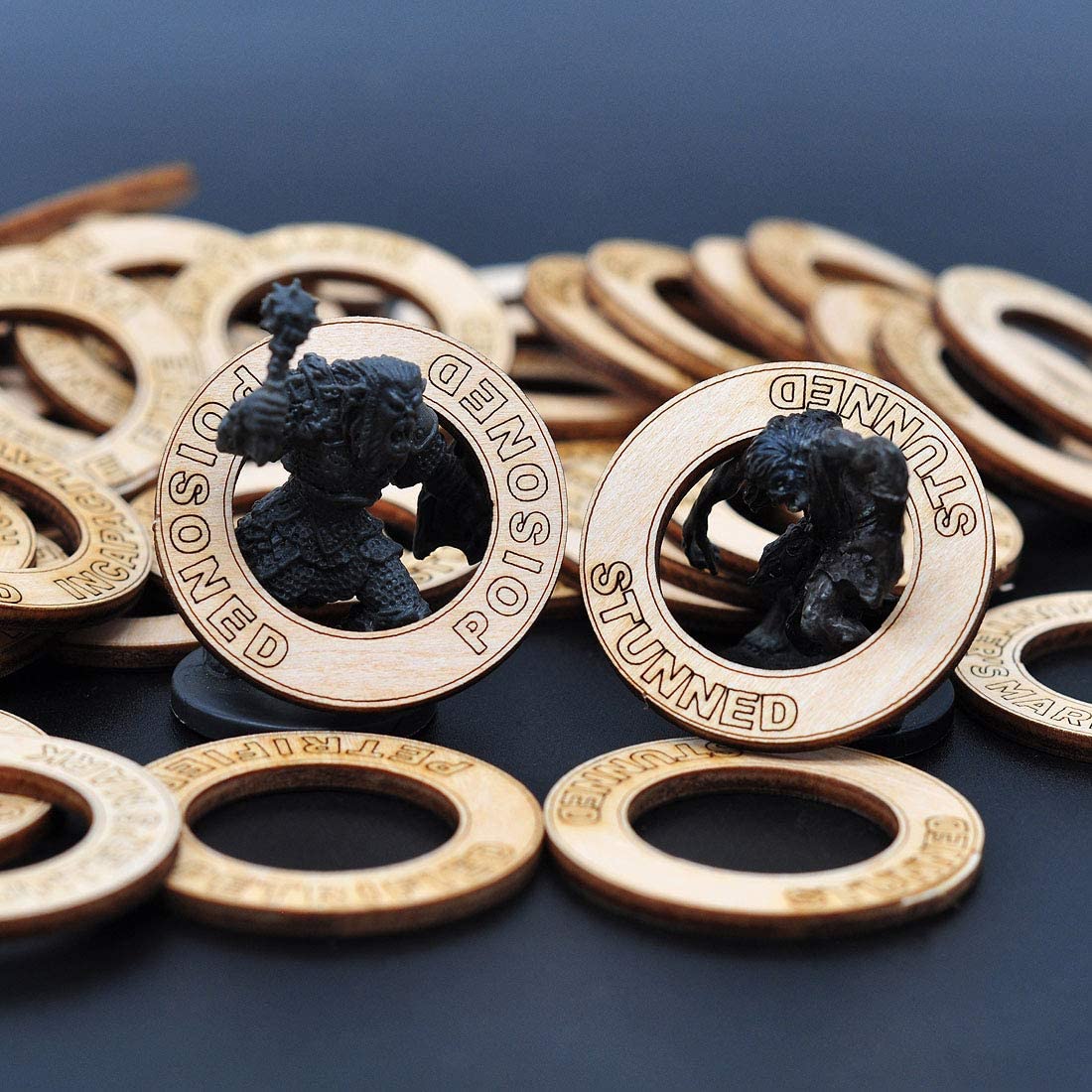 Laser cut from high-quality birch plwood, they are light weight, rustic, eco-friendly and add more medieval style to your game. A really high-value addon to anyone running games with miniatures.
Of course, wooden condition rings also have their own advantages, that is, you can paint them in various colors according to your own preferences, and the playability has increased. If you don't like DIY, then natural wood color is also a good choice.
3.Acrylic Game Mat 1" Hex Grid Overlay
Our regular customers know that we have another Square Grid map, which is suitable for most battle maps, but because some maps also require other shapes, we have produced a Hex Grid based on the original Map.
Hexagonal map printed with black lines, so they appear on ANY background. More flexible than a traditional battle mat, print maps and then lay this on top of them. It's convenient to play with miniatures and for the AoE spells. So just enjoy your GAME NIGHT with ease!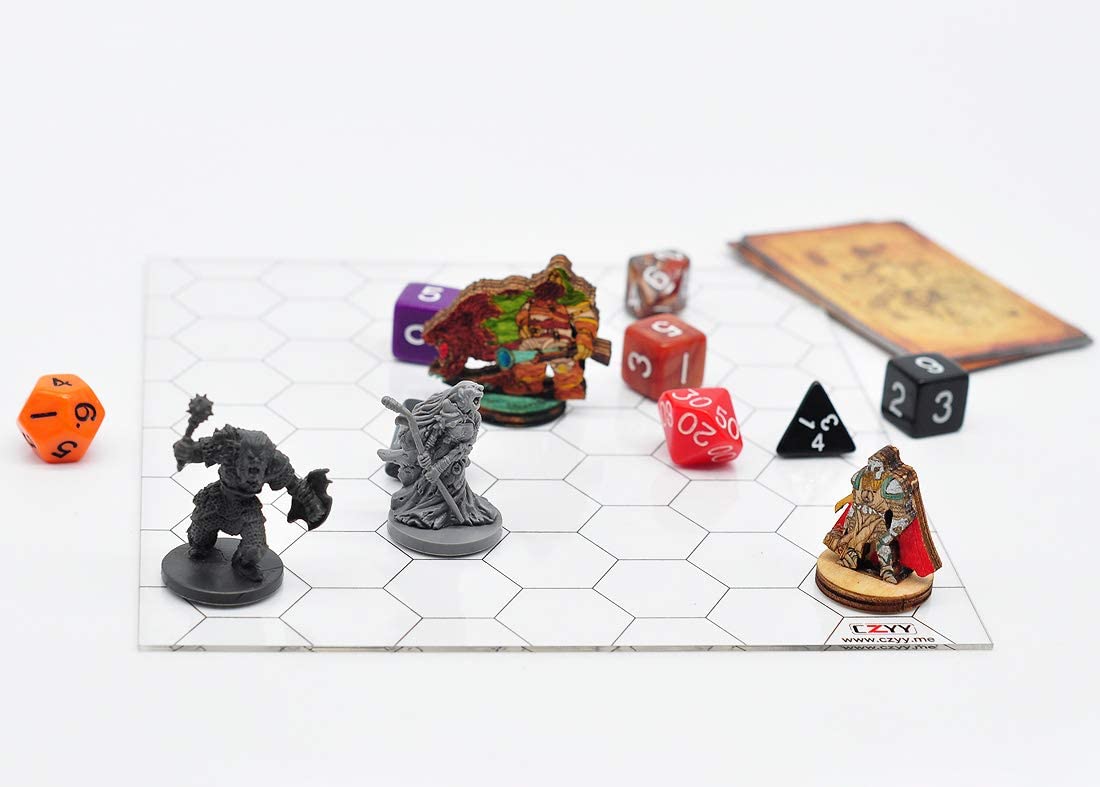 Lay out several dnd board grids for a larger area, the grid will tile accurately across multiple sheets. So you can get some more for even larger maps.
7"x8" table top mat fits conveniently in a binder to take with you on the go. It's heavy enough to hold down the paper and resist blown around. And light enough to be carried easily.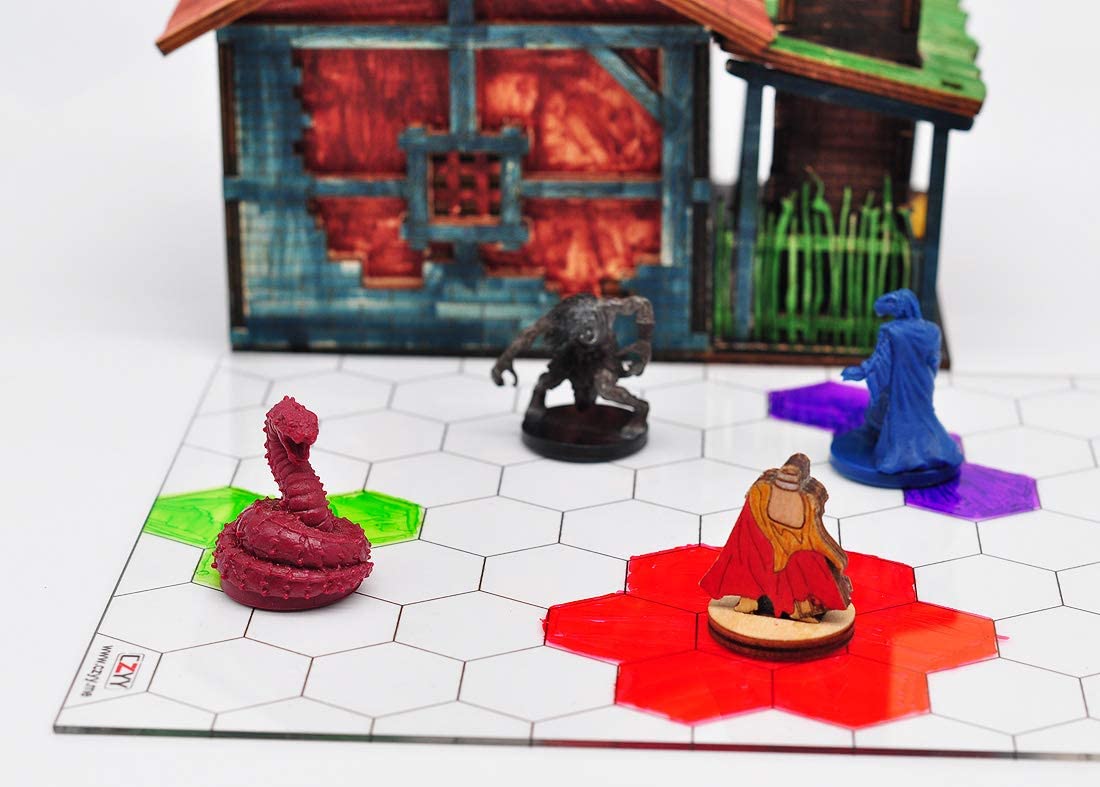 This Clear DnD Map Grids are way to place grids where no grids have gone before. You can now make battle maps out of virtually anything.
4.D&D Class Coasters Set of 12 with Holder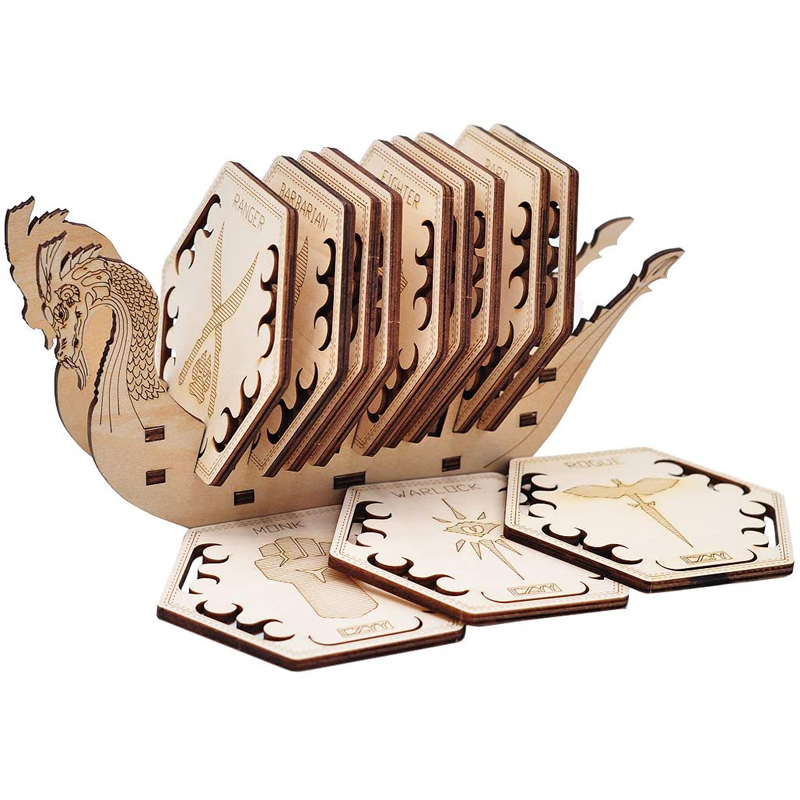 The inspired coasters laser engraved with 12 different character class symbols. This set will please not only your RPG group but also your tables. All 12 class icon coasters, so no matter what class you are, you can have the matching coaster!
These dnd mug mats made of natural birch plywood and every piece has unique grain and color. All wooden coasters are very detailed, high precision laser engraving.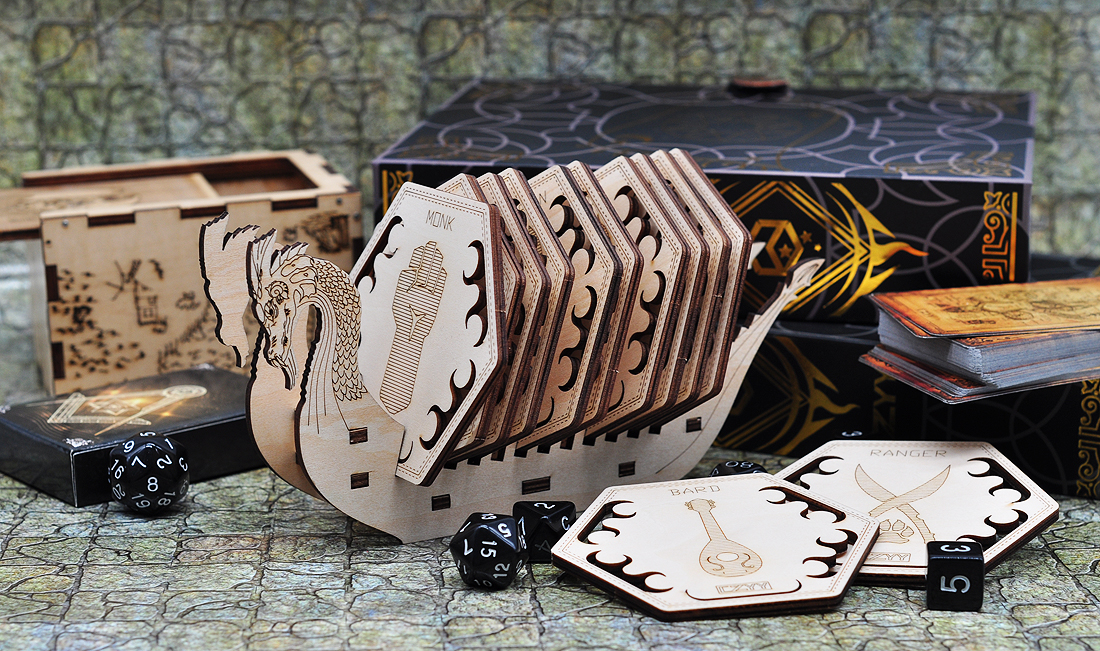 Each hexagonal coaster measures 2.5" side to side and 3.9" corner to corner, there is more than enough room for any type of glass or mug. They are lightweight and portable to carry.
The beautiful dragon boat shape and the coaster with twelve occupation symbols are not only a beautiful home decoration, but also a very practical desktop item.
5.D&D Blacksmith and Forge Shop Miniature Wooden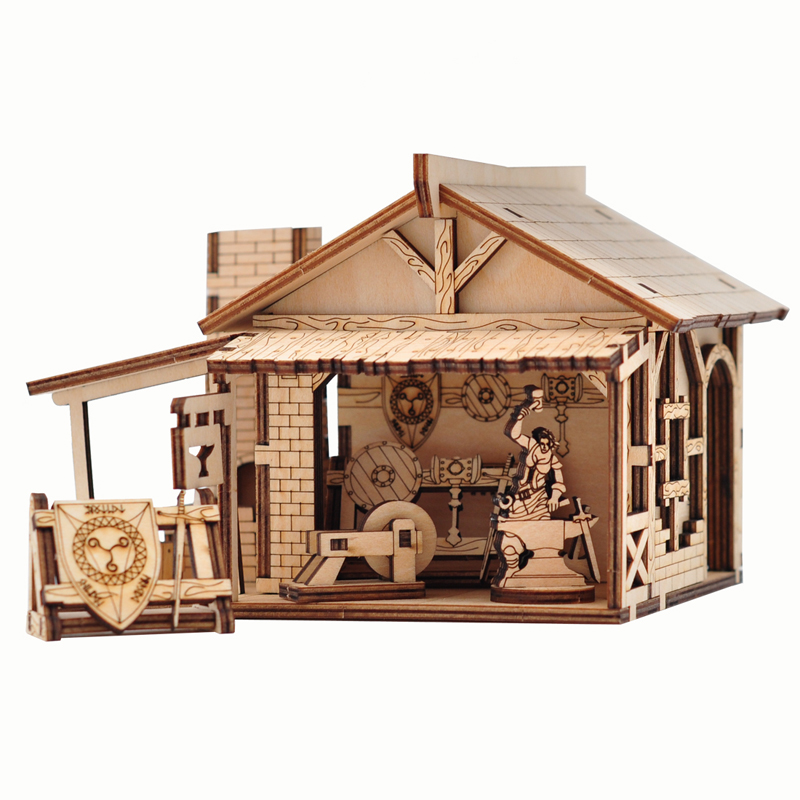 Each Village and Town needs a blacksmith, and each adventurer needs a sword! Give your party a place to buy a vorpal sword and craft adamantium armor.
5" wide x 6" long x 4.5" tall. Fills a 5x6 square on a standard 1" battle map. It is 28mm scale, perfect for use with RPG miniatures like Dungeons & Dragons, Pathfinder, Warhammer, or other tabletop games.
The roof is removable so you can see all the inside furniture and place whatever you want on top of that. And it is possible to open and close the door of the blacksmith to make your tabletop more alive. It comes with laser-cut pieces that need to be finished by yourself.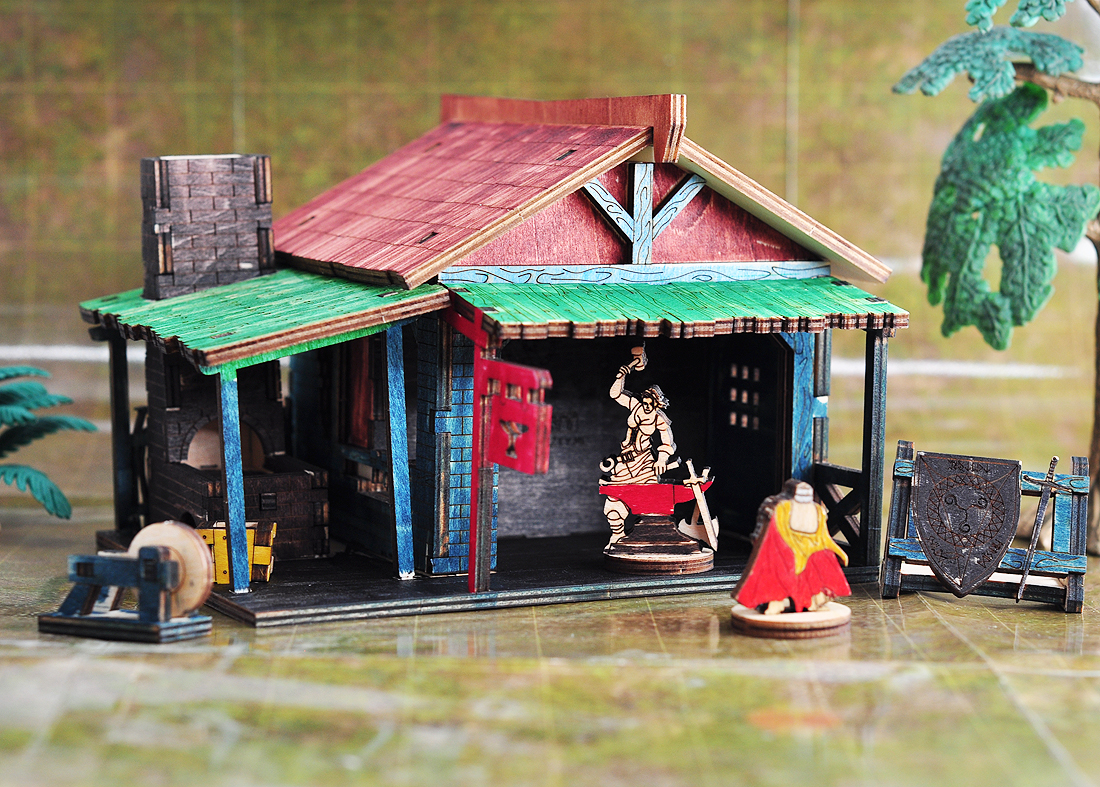 It made of birch plywood which ensures durability and makes painting easy. You can use as-is or feel free to paint to match whatever design you are going for.
Perhaps, our meager power cannot stop the step of COVID-19, but we can do some of our own life behaviors and make some contributions to the fight against the epidemic starting from ourselves. I firmly believe that everyone can gather as much as they want. It will not be too late.