Yes, I'm verbose again.
After more than a month, it may be because my thoughts are messy, so I haven't come out to say something; now it is estimated that the high temperature has evaporated the water in my brain, making my four-dimensional flow smooth.
We usually play board games, and we are usually used to a simple, straightforward process. Of course, we often look for some game props to make the game sufficiently interesting. Therefore, we have always had two different views on board game props, and how to choose is a matter for each player.
Today I am about to bring you several new game props, all products are from CZYY, this recommendation is for reference only, I do not necessarily recommend you to buy them.
1.
MTG Ability, Loyalty and +1/+1 Counters Set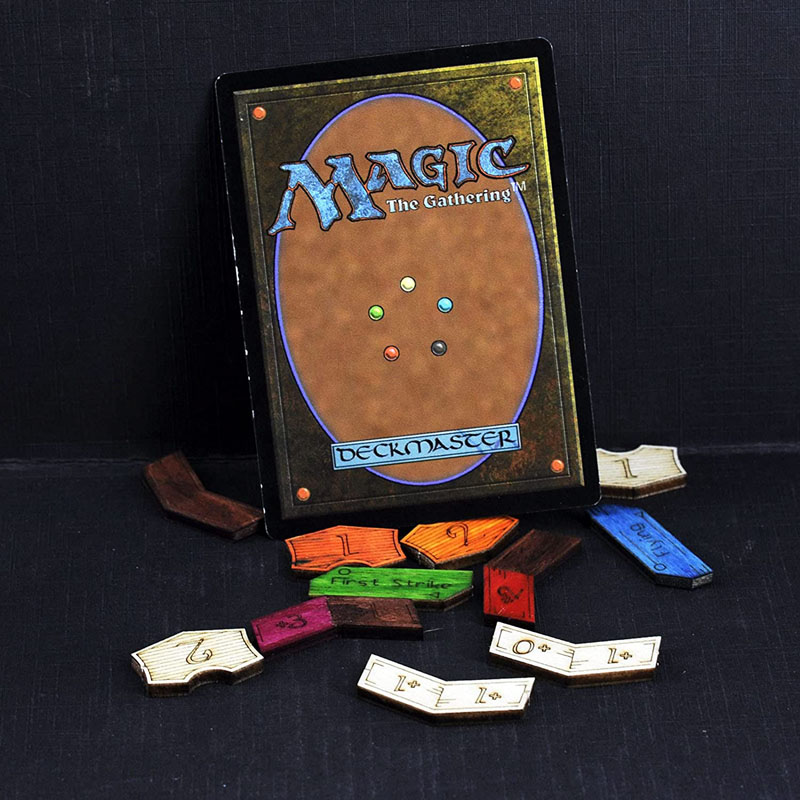 This set of 123 Magic Tokens contains: Flying x6, Lifelink x6, Deathtouch x6, Trample x6, Reach x6, Hexproof x6, First Strike x6, Vigilance x6, Bounty x3, +1/+1 x15, -1/-1 x15, +0/+1 x5, +1/+0 x5 and more. Fantatic addition to your gaming collection!
Everyone who plays Magic the Gathering will need some sort of tokens and counters, why not make them look good? Whether you're increasing your creature's power to huge heights, or crippling your opponents creatures these MTG counters will get the job done.
Check out these uniquely designed wooden counters for use with Magic the Gathering MTG and prepare to win in your War for the Spark!
2.
DND Arched Bridge & The Bone Bridge Miniature Set
Some villages are so remote, tucked into deep forests or between nearly impassable rivers, they hardly ever saw anyone other than those they had been born with - but with this mostly-new, 95% effective wooden bridge set even the most forgotten village can be found again! We can't promise that the locals aren't hostile and won't try to sacrifice you to their river spirits, but we can promise these bridges are sturdy enough to bring you there and - as long as the locals don't cut them down - most of them will probably still be standing if you need to make a quick getaway!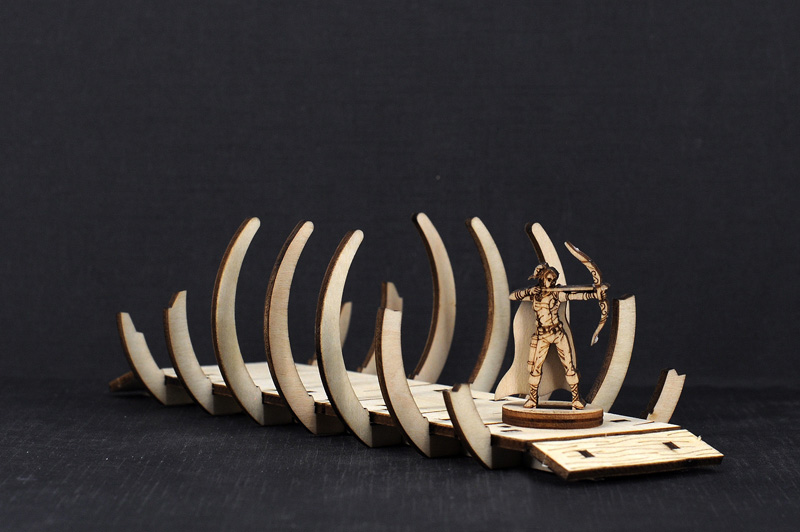 This modular bridge system does just that!!! You can drop this on any map you have created. It can either be a simple bridge over a stream or anywhere you'd like. Simple drop terrain quickly adds to the immersive gameplay your players already love.
These simple 28mm miniature bridges are ready for your next campaign in Dungeons & Dragons (D&D), Warhammer, Pathfinder, and other role playing miniature games.
3.
Town & Village Square Miniatures Set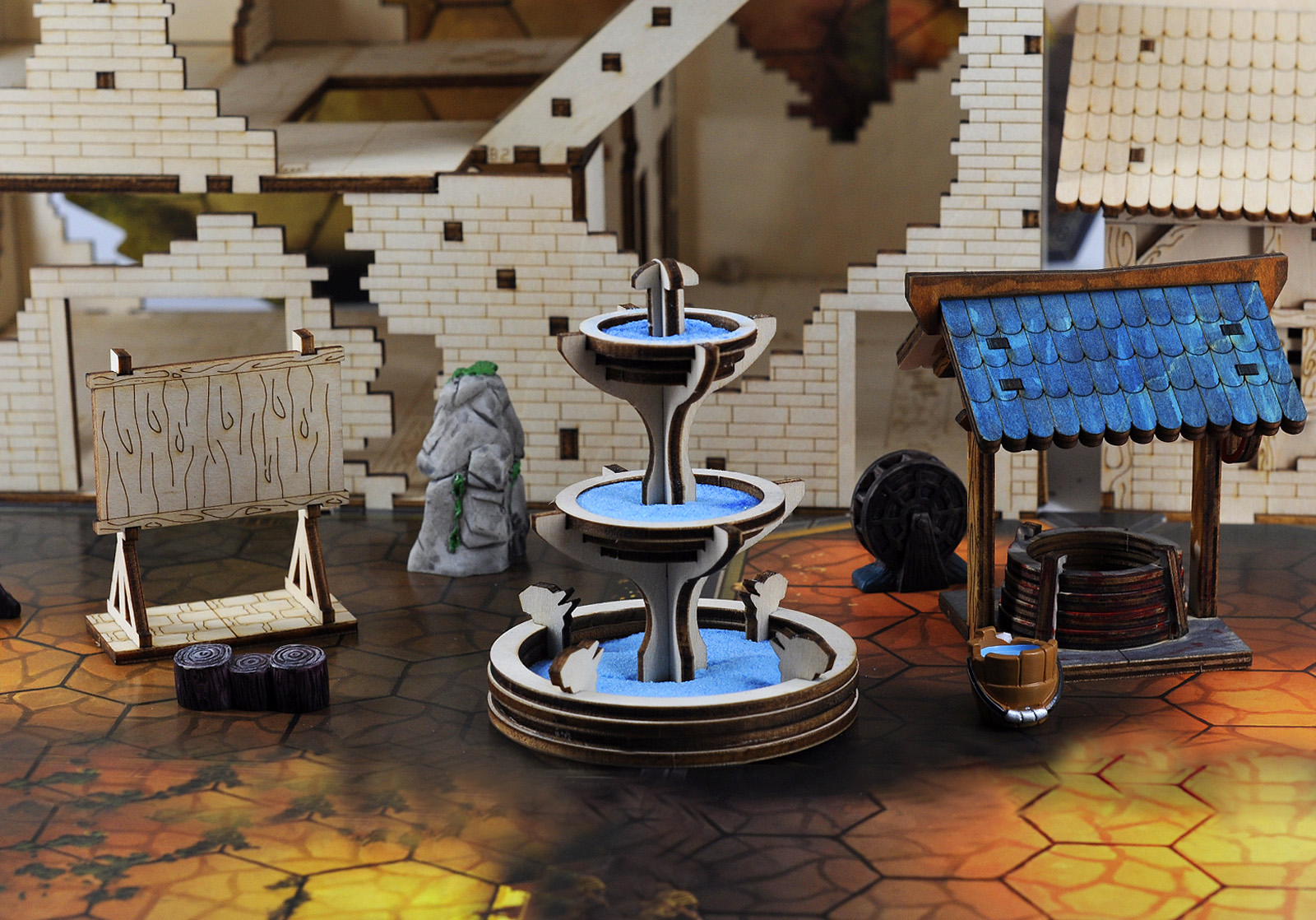 "The town square is bustling with townsfolks; as they look for work on the billboard, pump water, or make wishes to be well or eat to the fountain."
The Town Square set includes four pieces: billboard, fountain, well, and hand gallows. Designed to be used with medieval-style terrain and suitable for populating scenes in towns, villas, and castles.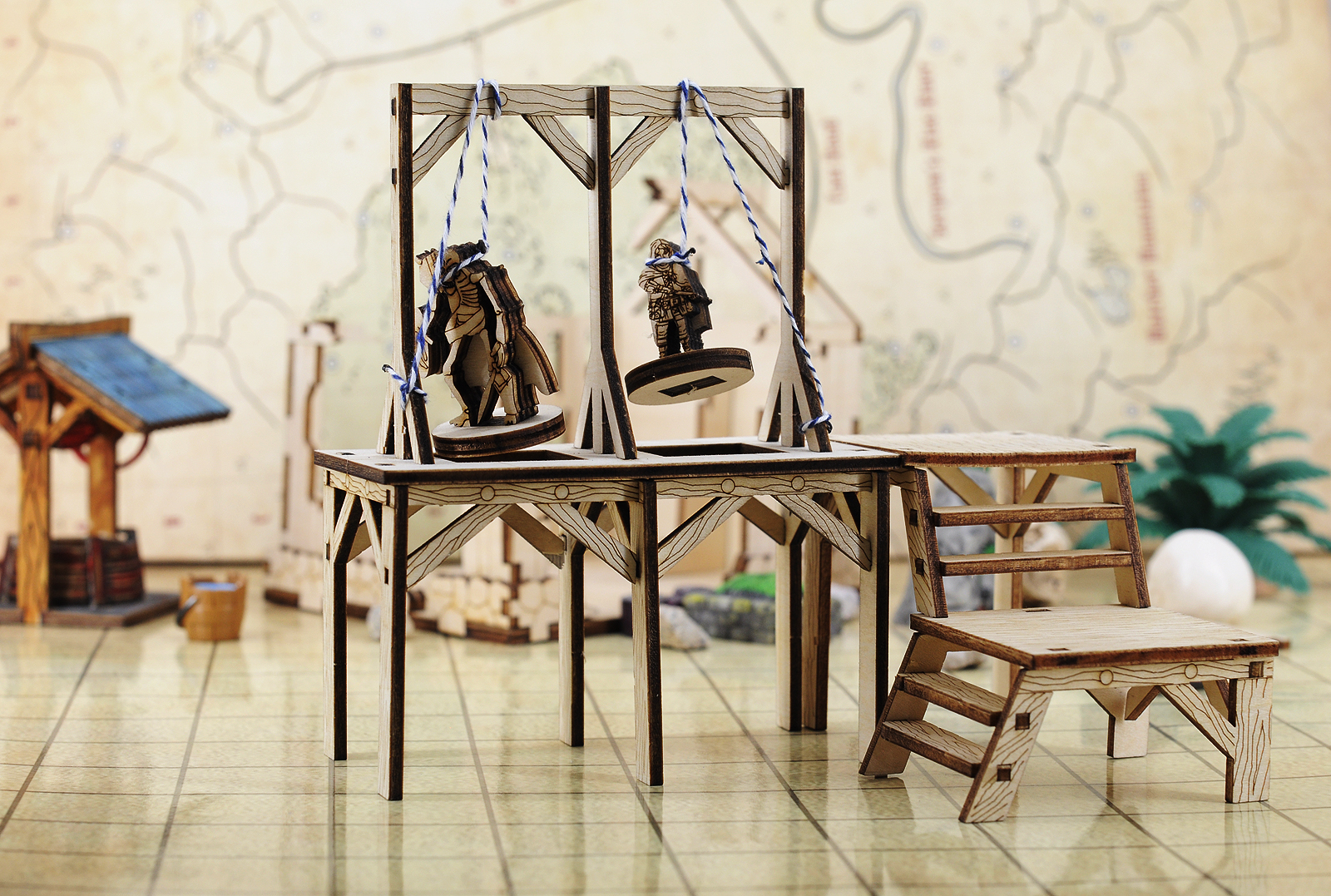 As with the rest of our dungeon line, these are designed to be modular and stylized to blend seamlessly with the rest of your collection. Everything is made of birch plywood which ensures durability and makes painting easy.
4.DND Medieval Church Chapel Miniature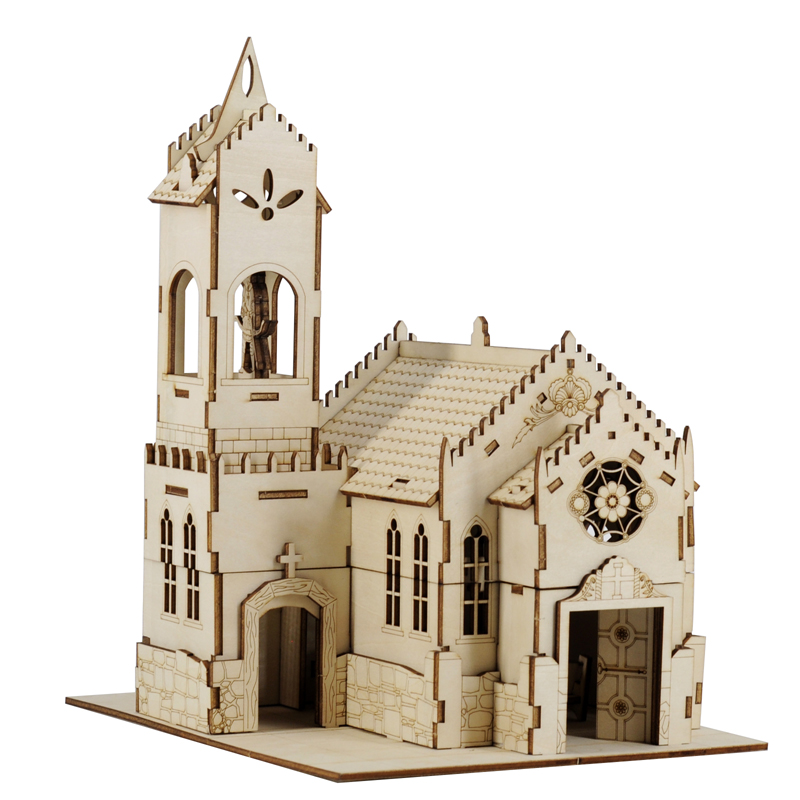 "So very much do the pilgrims revere the blessed church. Its majestic organ, sanctified nave, and magnificent apse bring humility to all who enter its sacred halls. May your devotion not go unnoticed."
One of the first big constructions in a Settlement is a church, you can't have a village without one. A place for worship and wisdom and a safe haven for the settlement.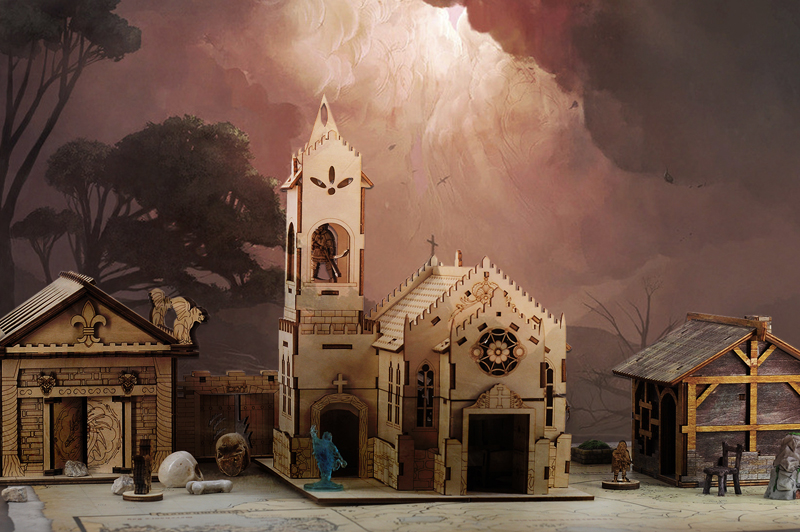 The wooden church is a massive medieval cathedral, perfect for your tabletop fantasy and historical roleplaying and wargaming. It features 2 entrances with working doors, and with removable roof. It measures approximately 7"x8.3"x10.2". As with the rest of our dungeon line, these are designed to be modular and stylized to blend seamlessly with the rest of your collection. Everything is made of birch plywood which ensures durability and makes painting easy.
5.
Pressure Pot Dice Rack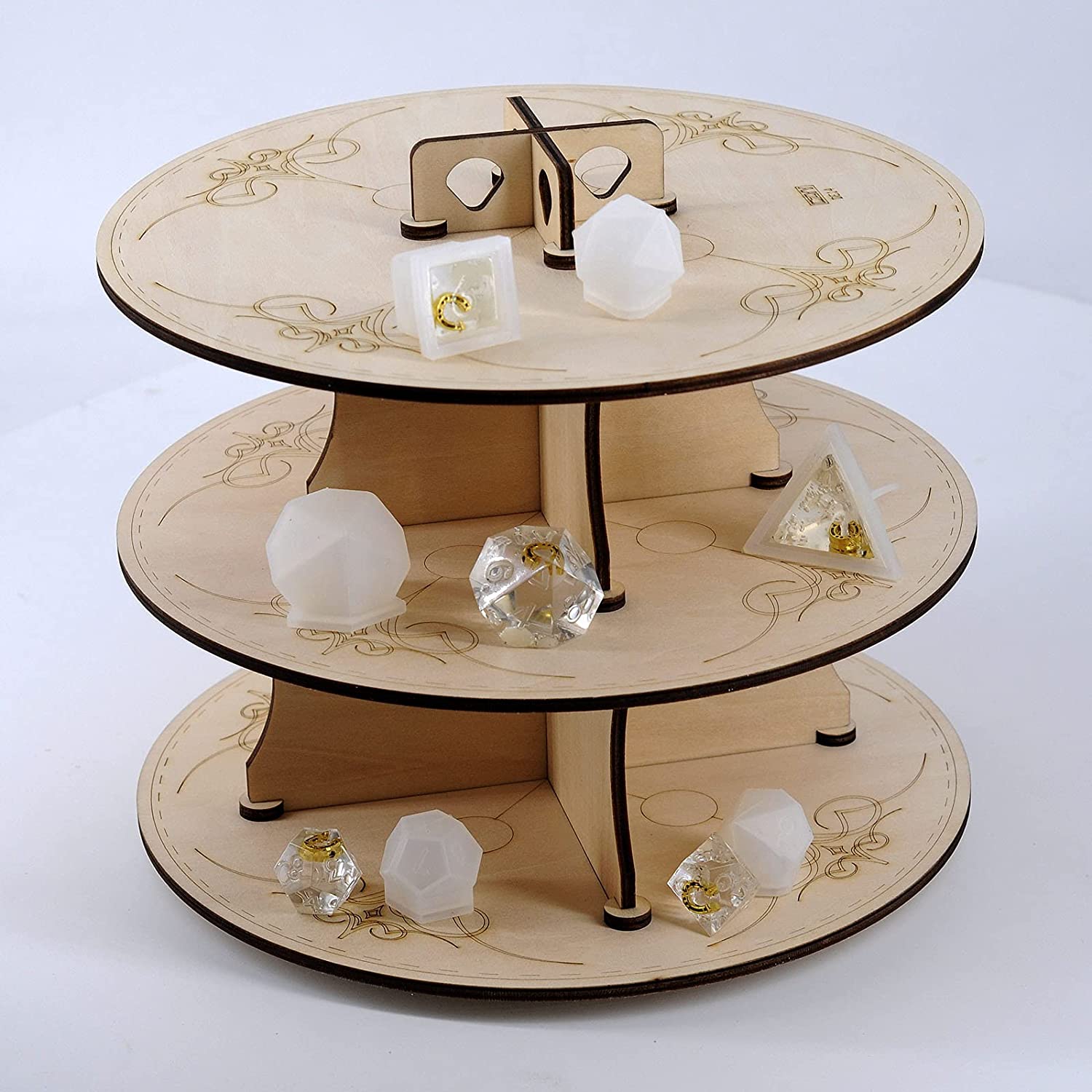 Having a pressure chamber is all well and good, but unless you maximize the space inside you're going to have a rough time making dice sets at a reasonable pace...
This is a shelf system designed to hold small molds in a Harbor freight pressure pot during the resin casting process.
The stand is laser-cut from birch plywood and comes with wooden pieces. The stand is very easy to assemble, with no glue or tools required. The locking tabs allow you to take any of the shelves off of the stand to accommodate molds of different sizes.
6.
DND Mimic Chest Box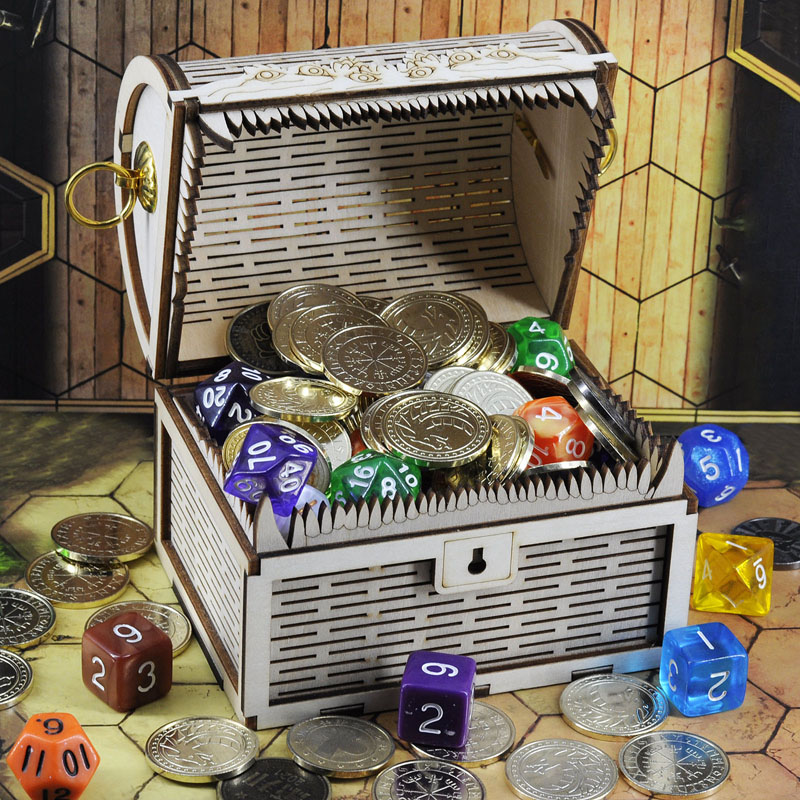 Are you in love with D&D? Need a good protector of your dice? Here it is) this little monster will be a good friend and dice keeper for you.
Mimics are shapeshifting predators able to take on the form of inanimate objects to lure creatures to their doom. In dungeons, these cunning creatures most often take the form of doors and chests, having learned that such forms attract a steady stream of prey.
He is birch plywood and with a mouthful of teeth, he is ready to guard your dice on your next campaign. Watch your fingers!
That's all for today's wordy
Maybe tomorrow there will be more good ideas, or some simple replacement products can be found.
As a board game player, rich imagination is necessary; at the same time, you can also discover more useful or convenient products in the board game process.
Respect!